Interview with Jenz, the author of the sick INSIDE artzine. One of the sickest artzines I've ever seen.
Hello, Jenz. Can you present yourself, who are you and what do you like to do?
Hi everybody. I'm the person behind the manic artscum gossip rag INSIDE artzine. I'm afraid, that everybody thinks I'm a disturbed, whacky misanthrope, because of such a weirdo magazine, but…. that not the truth. I'm the publisher, layouter, promoter and the guy who have to make the coffee. This means a lot of work but on the other side I don't have to make any kind of compromise. I'm 40 years old and spent most of my time drinking cheap red wine, enjoying live music and exploring the world of outsiders art. The rest of the time I'm working as a freelance graphic designer.
As I know you're living in Trier, the oldest city in Germany and it is also one of the few cities in Europe that have been capitals of the Roman Empire. What is like to live there, is there a DIY punk scene in your hometown? What about the art scene there?
Yeah, God's oldest city. Lot's of ancient monuments in the street, like old city gates, amphitheatres and lots of churches. Because of the history the (Catholic) church has a big influence on public life (that's why I call it "God's oldest city"). For example they admire an old, shabby "shirt" as the original crucifixion shirt of Jesus. Just ridiculous. Like Middle Age behaviour. Another attraction is the birth house of Karl Marx, unfortunately it's located on the red mile of Trier so you can see a lot of disappointed Chinese tourists standing in front of the house, right between sex shops and cheap diners, The DIY punk scene in Trier is not really big. There are bigger scenes of electronic/danceheads (lots of small clubs and bars) and many, many metalcores and some shabby black metals from the woods (Trier lies in a idyllically situated region surrounded with large, dark woods). Good friend of mine organise small punk rock concerts in a tiny small café featuring some great bands like VICTIMS or MILLOY. Just the band with their own backline, without PA or stage. Just pure live action. Love it. Much more intensive than big rock shows (and louder).
What's the earliest age you remember drawing or being interested in creating art?
Have no idea. I can remember that I have ruin all my schoolbooks with cartoons of punk styled ducks.
At what point did you start down the path of creative arts? Do you have any formal training in the area of graphic arts?
Think it started with creating flyers/posters for local (punk rock) concerts. I have always tried to teach myself, while learning from others, using new materials and styles, just the good old trial and error method. Think this is the best way to create an own individual style. There are so many great and talented artists out there, look at their work, try to learn, but never forget what's your own intention in art.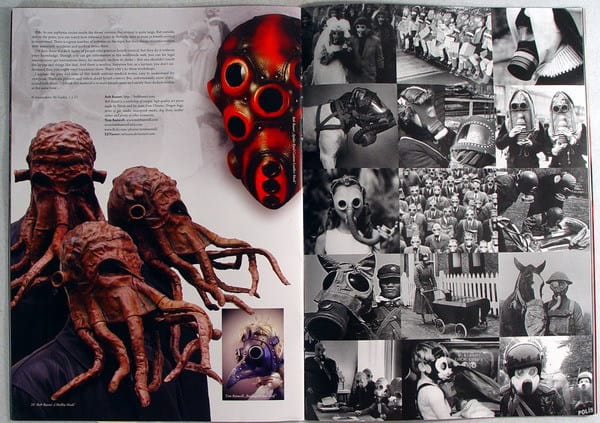 How did you get interested in underground zines? When was your first touch to DIY zines or punk scene?
It started in the mid Eighties, when I explore the American punk rock scene. I was thrilled for bands like Angry Samoans, Black Flag, The Necros and it was impossible to get any informations about in "overground" media except in underground zines like MAXIMUM ROCK'N'ROLL or FLIPSIDE. This freestyle speech and the freak out layout was absolutely fascinating for me. To me it was the printed form of the punk rock spirit: Just do want you want. No rules. Everything is possible. So I decided in 1990 to publish a zine just with my personal favorite kind of art.
Can you explain what the idea of INSIDE artzine is? What is the content of the zine, to name some artists you have featured in your zine… how did the zine changed since it's beginning until now?
Hm… the basic idea of the INSIDE artzine… Good questions. I have started the magazine 18 years ago as a black and white xerox fanzine containing freaky art stuff from friends and buddies. I knew all of he contributors personally. By-and-by I was getting more and more contacts, especially with the rise of the internet. I know that sites like Myspace or Flickr are ran by stupid, commercial idiots, but it's a unique place to get in contact with the world. Today INSIDE artzine is the dungeon of the derailed taste from all over the world. Lots of European weirdos like Farbrice Lavollay, Kapreles, Alessandro Bavari, MxNihil, countless patients from the USA like Chris Mars, Chet Zar, Kris Kuksi, KD Matheson, some crackpots from Australia (the land of the disturbed art, believe me) like Mark Powell, Karl Perrson. Also we have featured some exotics like Shann Larrson from Hong Kong or Corix Baluca from Saudi Arabia/Philippines. (take a look at our website and check the links-section for contacts)
The different degree of sickness we manifest in full color glory paintings, digital collages, short-stories, poems….. everything is allowed. No rules! No guidelines. The emotional spectrum reaches from gloomy, dark horror stuff up to over-torqued surreal art. Often it comes with very aggressive, violent mood, but it never satisfy morbid and stupid fantasies of rotten.com blockheads. It's about to find the hidden beauty in ugliness, not to get off on the pain of others!
What is your general process from start to finish an issue of INSIDE artzine? How long does it take you to complete an issue of the zine? How do you get in touch with the artists featured in the zine?
There is no regulated process, the INSIDE artzine hit this damn planet only irregularly. So when it's time I start to collect the contributions and because of there is no deadline it could take some time. It's not only to collect one artwork after another, it should function as a whole. But it's really fun to me, to explore the abysses of the internet, mags and zines in endless hours at night.
What do you feel after finishing an issue of the zine?
Satisfaction (of course)! Try it. It's not so difficult to be creative or productive. Don't care about the result (in the beginning), the process of being creative is very enriching and satisfying. It's much better to do something, as to sit around and crying about the boredom of "your scene"…
Do you like working with a computer? Are you the webmaster of your own website? What do you think about the advantages of the modern technologies (computers) for the visual arts?
Computers are mighty tools! For example digital collages are impossible without them. The computer fasten so many things in the process of making art, it allows you to reverse decisions, to experiment with technics you will never learn with your hands but it can't substitute the main thing: the idea. So… I don't care about the way, just care about the result.
What about your exhibitions? Do you make oil paintings?
From time to time I load my van with A0 canvas prints of INSIDE artzine stuff, travel to unknown cities and celebrate some exhibitions with weirdo performances and/or (local) freaky bands. With economical view it makes not much sense but it's always a good time, meeting lots of interesting people/venues.
Where do your inspirations come from? In your myspace page it's written that you like H.P. Lovecraft and Charles Bukowski? What are your favorite writers or poets?
Yep, I like H.P. Lovecraft because of his talent to describe the unnameable, unspeakable horror, which only manifest in your fantasies. For all who don't this guy: Lovecraft was an author of the early 20th century in the vain of Edgar Allen Poe, who create gothic, cosmic horror like the Cthulhu myth. And dirty old Bukowski is the master of surviving the worst situations with his indestructible kind of outsider humour. He gives you the sureness, that everything can be much more worse than it seem s to be.
What are your music influences? Can you play a music instrument? Have you been involved in the punk scene as a member of some band?
Yeah, music! I love music. Lots of different kinds of music. This differs from extreme maniacs like STRAPPING YOUNG LAD or THE LOCUST up to good time stuff like BOUNCING SOULS or STRUNG OUT. I have played guitar in a punk rock band called SMALL BUT ANGRY for 10 years. It was in the 90's and we played NOFX styled melodic punk rock. It was a pretty cool time, with lots of crazy touring and stage demolition.
Are there any other artzines in Germany? How's the zinester scene in Germany and what about the distribution of your zine? Do you work with some punk distros and labels to distribute your stuff?
I'm afraid that paper artzines are a dying species. Older stuff like the German COMICTRASH or american MALEFACT are long gone and good alternatives are not in sight. There are a flood of new online galleries and blogs on the net with various kind of art. If you are interested in twisted art stuff on the net, check our link section "Stores & Galleries". Yes, the distribution. An old problem. Not so easy to sell this offensive kind of publication like the INSIDE artzine. So if you know any good, suitable distros (especially in Eastern Europe), just let me know…
Is there anything you want to add?
First of all, thanks for your interest in our little artscum magazine. This interest is the motor of the underground: to be curious about what other people thinking and doing!
Peace…
Jenz Dieckmanns, INSIDE Artzine