Hello readers!
As of late, I thought I'd share with you wonderful people something that I haven't done here before. As you can read from the title, I wanna show you my insights of the year 2019.
So here we go!
Albums
1

Dithering – S/T
It's like Pg.99 but done even better. This band knows how to settle the atmosphere just right. Heartfelt, eerie, emotional, and dramatic.
Utterly unbelievable.
2

Uboa – The Origin of My Depression
A powerful fucking noise album. Nothing has ever felt to me so devastating, so disturbed and so depressed as this album and I am glad I did.
40 minutes of pure catharsis.
Some people say that this is just a "lamer" version of The Commercial Album, but I disagree. The Residents and Jack Stauber are good on their own and I even enjoyed listening to Micropop.
Not cheesy or boring at all.
4

125, Rue Montmartre – Discography
Although more of a discography rather than an actual new album, it just feels so complete. Starting off with an unreleased track really feels like a door opening to the bright light.
This band, this discography… everything about them just makes me smile.
Pure fire. 🔥
After breaking away from the horrible relationship to the recovery, this is the outcome of a survivor.
An absolutely chill but deep banger.
6

No One Knows What The Dead Think – S/T
Picking up where Discordance Axis left, this is like a fresh start. It is absolutely incredible. Also, quite surprised that this album includes karaoke version of the tracks!
Might as well sing 'em myself now. 🕺
7

Secondstroke – Death Machine Music
Slow, dark and brooding shoegaze/post-punk that honestly doesn't deserve to be missed out on. I would definitely suggest this release along the lines of Have a Nice Life and/or The Angelic Process.
8

The Caretaker – Everywhere, An Empty Bliss
Oh, my god. Why did you have to make us sad once more? After completing the 6 series of the disturbing Everywhere at the end of time, James L. Kirby aka. The Caretaker puts one last album before setting off.
Nothing says au revoir more beautifully than this one.
9

Zheani – The Line
Her track "The Question" brought me to attention, especially with her evidence-filled music video about Die Antwoord, which I don't like them personally but thank god I fell in love with her rather than with them.
Everything about her is just… unique.
10

Les Deux Minutes De La Haine – Non-Lieux
Basically, it feels just like one big swan song. It's devastating, both emotionally and psychologically.
It's definitely something to dry your eyes on.
11

Takafumi Natsubara – Strange, Beautiful And Fast
Strange, beautiful and fast indeed. Simply a collaboration album with various grindcore acts worldwide.
It's simply amazing.
grind your fucking head in
12

Rabid Peak – You Can't Choose
The only studio album of a defunct but magnificent female fronted grindcore band.
Brutal, menacing, and intense.
13

Torba – S/T
Dark Italian sludge/post-hardcore that already established itself to be one of the most promising bands ever.
14

Nuclear Family – HUMANCAPITALMANAGEMENT
Black Cat #13 + .gif from god = this.
Sloppy, messy, chaotic… it's almost everything I never get tired from.
Absolutely underrated.
15

Cold Brats – Punk In The Digital Age, Vol.1
Damn brats… a recollection of things they did this year packed together in one release is just one big satisfaction for us.
16

La Petite Mort / Little Death – Disco
Now, THIS is something. A mix of the catchiness of ATDI and the glamzy/screechy sassiness of The Blood Brothers. It sounds like a perfect mix.
Totally worth having it.
17

Kashya – There's so much hope buried underneath tragedy, it's the same shade as concrete.
This is definitely my favorite Kashya album ever made this year, mostly because of the rad Circle Takes The Square reference in the album title, which makes the whole thing even better.
18

Pourbon – S/T
Mevzu Records has put out some of the heaviest releases that I have ever heard this year and this is the one if you're wondering.
19

SeeYouSpaceCowboy – Songs For The Firing Squad
Aside from a very disappointing full-length album, I would honestly choose this compilation over it. This is pretty much everything I like about the old SYSC.
After this, the charm they once had is all gone and it's a damn shame.
20

Tower of Rome – Discography
I am definitely a big fan of short, heavy and intense tracks.
This discography by Tower of Rome is just that.
Now let's go to the EPs…
21

Monsters Attack – S/T EP
Sick EP by blackened mathcore outfit from the UK. This one is absolutely striking.
Gojira would have been super proud of them.
22

Zheani – Satanic Prostitute
Fierce and powerful little EP from Zheani herself, containing four sick and edgy tracks.
Definitely the EP of the year.
Weird, abstract, sexy, totally daring and ridiculous.👾
24

New Forms – I Don't Want To Live My Life Again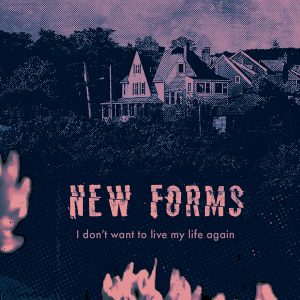 Ferocious emo-violence. Short, straightforward, intensely passionate.
25

kiss×sis – He Who Is Destined To Lie In a Coffin Will Fall Into It
Intense and super heavy emo-violence/metalcore from Russia that will crush you under the weight of their sick breakdowns.
Just outright amazing.
26

Der Smogwürger

–

Der Triebmörder
A sick little EP by a cult noise project from Germany. A good little mix of industrial and dark ambient here. It should convince you that this release is a good starting point of the Der Smogwürger's discography.
27

Trash Tape Therapy – Vol. 4: Face of Terror
Downright nasty German powerviolence/grindcore with brilliant slicks and kicks.
Raw, brutal form of blackened crust punk from Bosnia that totally deserves its recognition.
29

Armor – Some Kind of War
No wonder why so many people love this piece. It's just brilliant. Like punch-in-the-gut kind of brilliant.
Cute, cuddly but edgy and sick at the same time. When you really look into songs like "Saccharine", it gets really deep.
31

Katiny Slezky – Kill Em All
New material from my favorite Yakukstcore band. Just watch them live…
Raw, primitive, and ferocious hardcore punk.
32

Regional Justice Center – Institution
Short but dark and murderous powerviolence EP by the legends themselves.
Wastes no time in venting all the fury.
We can't go without some split releases as usual, here's some that grabbed my attention…
33

Amitie / Pique
Short (because lathe) but emotionally and technically intense screamo split.
I can put this on repeat any day.
34

Plague Rages / Chikara
Who the hell doesn't love Chikara and their hyperactivity in the DIY scene? Including this split with Brazillian grindcore legends? I'm totally adding this split up on the list because, personally, it's my favorite split by them this year and I do not regret saying it at all.
35

Igoia / Lugubrious Children / Throat / Double Me
If two bands weren't enough, why not add two more? This split only doubles the satisfaction for my taste in powerviolence.
36

Dispassionate / Floating Woods
Two groups of young German skramzters rejoice for another chaotic and passionate European gem.
37

Sergeant Cortez / Dosis Letalis
Tulsa's cult DIY label Cult Love Sound Tapes have released this unusual gem consisting of Serbia's HNW cult leader Dosis Letalis and noisecore monstrosity Sergeant Cortez. Although Cortez' side is just business as usual by his standard, Dosis tried his best to do something completely different to cater to noisecore audiences.
This short but sweet and loud split really paid off on its own.
Demos 2019
38

You Can Never Control Who You Fall In Love With – S/T
JFC, this is gnarly grindcore. This trio can do no wrong in pulling out heartstrings, as well as amounts of sick ferocity.
39

Wild Heart – S/T
Raw and chaotic emoviolence from Texas, with a hint of Haikus running a marathon and it sure is fucking winning!
Here's something I've found from Vk.com This raw demo EP by a sasscore/emoviolence band from Belarus (I presume) that is just newly formed. Sloppy, messy, chaotic and lots and lots of yells and Casio keyboards. If you love Trencher, then you sure as hell would love this.
P.S. – Obviously, the band's name is just a bad joke.
41

Amu Daria – S/T
This new band from Malaysia is straight-up fire! I can hear all influences from Orchid, Tristan Tzara, June Paik, etc.
Definitely looking forward to hearing more from this band.
Honorable Mentions
Raw Mud – No Future
Sano Ex Machina – Promo 2019
Norse – S/T EP
Reflection – Different Paths
Antekirta – S/T
Sowithout. – Septemberthirteentwentynineteen
Surhysa – Zaesur
Terrifying Girls' High School – Spooky Girls' Gymnasium
Nepugia  – Lo Que No Vi Venir
Empatia – 2017-2018
Fluoride – Disentanglement
Kishote – Takotsubo
No Right – Senescence
That's it for 2019, folks!
Wish you all the best in 2020!